With more than 20 years manufacturing figures for the international market, our products have frequently received recognition in the principal specialised publications and have often been honoured with prestigious international quality awards.

Professionality
A large group of professionals, including moulding engineers, teams of painters, quality controllers, graphic designers and more allow us to develop and carry out projects ranging from limited editions to productions of hundreds of thousands of pieces.

We have a qualified art department with specialists on human figures, animals, machines, cars and much more. We are prepared to produce accurate miniatures of practically any object, including life-like portraits of historical and modern personalities.
Technology

We use the best available machinery and raw materials, always on behalf of maximum quality.

Careful computer design and mould engineering, together with automatic vulcaniser and spinning machines guarantee maximum quality.
Production capacity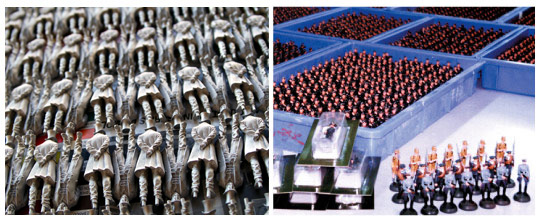 A human team of more than 500 employees and modern machinery makes high production capacity possible, approxima-tely 200,000 units per month for a hand painted and finished 54 mm figure.