We work with a professional and internationally recognized team of painters with a long experience in the art of painting miniatures. They will paint the figures in an exclusive and unique way.
Just give us your idea for accurate quotation.
These are some of the clients that have worked with us.
All scales.
All types of bases: wood, stone, plastic, etc.
Plates engraved with your text.
Presentation of figures in boxes and cases in various materials (cardboard, wood, leather, etc.).
Medals and figures in gold, silver and bronze plating in presentation cases.
Commemorative figures for modelling associations, shows, etc.
Solid Bronze casting of any figure with a variety of finishes.
Lid gold and silver trophies.

Limited editions and exclusive models.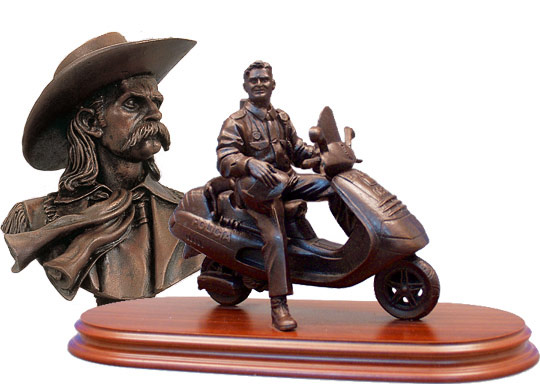 Cast in Metal or Resin.
Every historical period (Middle Ages, American West, WWI, WWII, etc.).
All scales.
Pins, metal or colour finished.
Company gifts.
We produce high quality modelling manuals, catalogues, and leaflets, a full range of diverse publications in different languages.
Our own books published in English, French, German, Italian, Japanese and Spanish back us.
These are some of the clients that have trusted in our work a efficiency: